Obituary for Evelyn Doris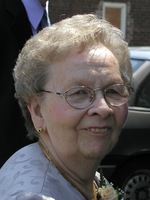 Evelyn Frances Doris (nee Carter)

Our mother passed away peacefully at West Oak Village in Oakville, on Saturday, October 7. Mom surprised us all by living to see her 99th birthday. Her husband, Jack had died back in 1998. She leaves behind a large, loving family – Jack (Ruth), Tom (Betty), Paul (Jill), Marian (Marvin), Karen (Gregg), Kevin (JoAnn) and, of course, Jamie who died in 2009. She enjoyed her fourteen grandchildren and eleven great grandchildren. Along with her sister Anna, she survived a difficult life especially through her teen years during the Great Depression and into early adulthood until she met Jack Doris. They worked hard to raise a family and create a good life for all their children. Mom even taught herself how to type just to get a job as a school secretary to better support the family. She may have left this world, but she will never leave our hearts and minds. We are so very grateful to the many caring staff at West Oak especially Lunie and Diane. Friends and family are invited to attend a wake for her at Holy Cross Cemetery Funeral Home, 211 Langstaff Road East, Thornhill, from 10 a.m. to 11 a.m. on Saturday, October 14. Visitation will be followed by a funeral mass at 11:30 in the Chapel of St. Joseph. A light luncheon will follow. Interment will take place at St. Joseph's Cemetery in Brantford on Monday October 16 at 11 a.m. In lieu of flowers, please direct donations to Stedman Community Hospice (St. Joseph's Life Care Centre), 445 Grey St, Brantford, ON N3S 6X1. On line condolences may be made at www.catholic-cemeteries.com.