Obituary for Giuseppe Marino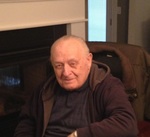 Giuseppe (Joseph) Marino passed peacefully surrounded by his family on Sunday, February 11th in his 89th year of life. He will be forever missed by his wife Maria Marino, his daughters, Joanne (Pierre), Antoinette (Brian), Ann (Glen), Margaret (Daniel) and his loving grandchildren Pierre Joseph, Zachary, Victoria, Anthony, Matthew, Aidan,
Kyler. My father will be forever loved.