Obituary for Nai Kwan 'Stephen' Siu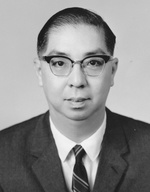 It is with great sadness to announce the loss of Stephen, Nai Kwan Siu. He passed away peacefully in his sleep on January 10, at the age of 96.
He left behind his beloved wife, Siu Ho, of over 60 years. His three children, Peter, Maria and Paul. His grandchildren, Stephanie, Clarisse, Theresa, Stephen, Simon, Michael and Philip.
We appreciate all the support and condolences from friends and relatives in this time of our loss. Especially from the outpouring of masses offered from relatives for the repose of his soul.
Visitation and funeral mass will be held on January 20 at Holy Cross Funeral Home. In lieu of flowers, donations in his name may be accepted to St. Vincent de Paul Society or Shepherds' Trust.