Obituary for Ralph Farano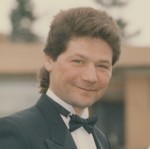 Ralph passed away peacefully at home on December 11, 2017. Reunited with his parents, Pasquale and Maria Concetta. He will be deeply missed by his step-mother Olimpia. Loving brother to Joe, Tony (Teri), John (Janet), Anna (Paul), Luisa (Joe) and Dave (Michelle). Cherished uncle to Frank, Dave, Cristina, Mark, Nikolas, Erik, Sarah, Steven, Christine, Adrian and Julian. Ralph was an accomplished professional musician, who later in life, enjoyed playing his guitar. Ralph was an avid outdoors man, who loved hunting and fishing with his friends and his trusted companion Rosso.
Above all, he was a kind and generous brother and friend who dearly loved his family and everyone he knew. He will be sorrily missed. If so desired, donation in memory of Ralph can be made to the Salvation Army.
The family will receive friends at the Holy Cross Catholic Funeral Home 211 Langstaff Road East (west of Bayview Ave.) from 2 – 4 & 6 – 8 on Thursday, December 14, 2017. A Mass of Christian Burial will take place within the funeral home in the Chapel of St. Joseph on Friday, December 15, 2017 at 9:30 a.m.