Obituary for Filomena Petrilli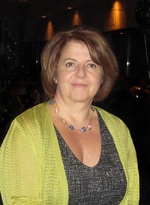 It is with profound sadness that we announce the passing of Filomena Petrilli on Wednesday, December 6, 2017 at the age of 60. Filomena will forever be remembered by her loving husband of 40 years Altore, her two daughters Stefanie and Nicole, and her beloved dog Mickie. She is survived by her mother Giulia, sisters Giuseppina (Silvio), Rita (Pietro), and Libi (Frank), brothers Gino (Gabriella) and Mario, and sister-in-law Maria Rita (Sandro). Zia Fee will be fondly remembered by her many nieces and nephews, grand-nieces and grand-nephews, aunts, cousins, and extended family. She touched the lives of everyone she met and was loved by both friends and colleagues, including all the staff, faculty, students, and alumni at Schulich School of Business where she worked. She is now resting peacefully in heaven with her father Oreste, father-in-law Ennio, mother-in-law Egle, and her sisters Lidia and Natalie.

Although our hearts are heavy, we remember Filomena for the impact she made on all our lives. She was an attentive and loving mother and wife – taking pride in the accomplishments of both her daughters. Her legacy of love, generosity, kindness, and fierce bravery in the face of adversity will live on in those she loved.

As expressions of sympathy, donations may be made to The Princess Margaret Cancer Foundation in support of Leukemia Research.