Obituary for Nella Castaldo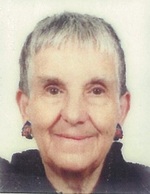 Passed peacefully after a brief stay in hospital, while surrounded by her loving family on Friday July 14, 2017 in Newmarket, Ontario, at the age of 83. Beloved wife of the late, Francesco Castaldo and devoted mother of son, Ugo and his spouse, Franca. Loving sister to Maria (Mario), and Mario (Pina). Devoted aunt to Louisa (Bruno), John (Ivana), Anna Maria (Domenico), Mario (Sandie), Frank ( Liliana), Liliana (Michael, Brad) , Samantha (Adam). Deeply appreciated by all her great nieces and great nephews, and treasured by all extended family and relatives.

Her life was one filled with numerous acts of kindness, and she was genuine and loving to all. She was explicitly sincere and true in heart and mind; a true child of God. Beautiful memories are left behind and are treasured. Always in our thoughts, and forever in our hearts.